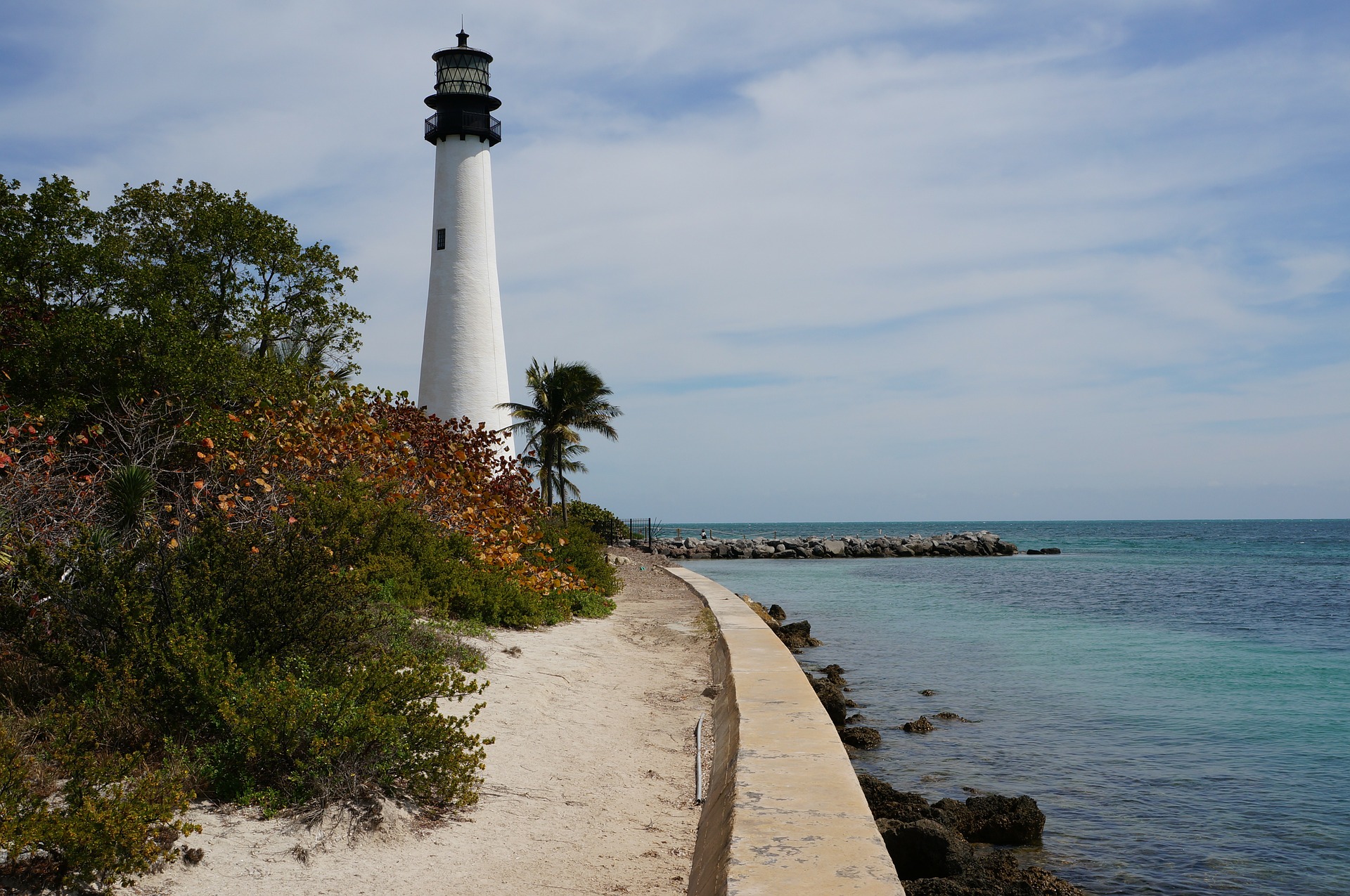 In July of 1824, the United States Congress contracted Samuel B. Lincoln of Boston to build the lighthouse at the tip of Key Biscayne. With his plans and
 materials in hand, Lincoln set sail the following month but never arrived. It was assumed his ship sank and left no survivors.
This 65-foot lighthouse, with its wooden staircase, was to guide sailors as well as serve as a lookout to protect the area from pirates, Indians and other invaders.
Noah Humphreys took over the project, and by the end of 1825, the sixty-five-foot brick tower was finally completed.
John Dubose was appointed to serve as the first lightkeeper. He, his wife and five children became the first American family to take up permanent residence on the Key.
Eleven years after opening, while the Dubose family were away, a band of Seminole Indians attacked the tower, burned the wooden structure inside and pillaged the cottage. Several years later, the lighthouse was rebuilt and operating once again.
After Florida seceded from the Union in the 1860s, the lighthouse was again damaged. It went in and out of service several times over the next 100 years for various reasons, including tropical storm damage and lack of funding. The lighthouse was restored and reopened in time for Miami's Centennial Celebration in 1996.
The Key Biscayne lighthouse now sits on the U.S. National Register of Historic Places and is a prominent icon for our island.
You can learn even more about the history when you visit the lighthouse. Tour the keeper's cottage which is a replica filled with antiques and artifacts that give you a glimpse of the life of a secluded lightkeeper's family.
Experience a slice of American history at the very tip of Key Biscayne – during a time of fighting Indians, dangerous pirates and tropical storms.
The historical events of yesterday have led us to the peace, tranquility, and serenity that we enjoy today on our beautiful island paradise known as Key Biscayne.